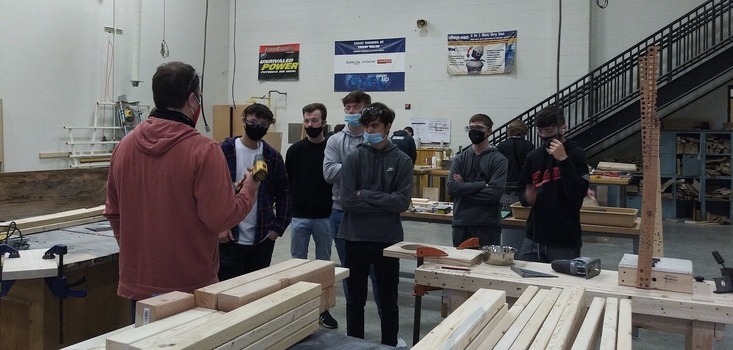 Overview
Students will learn basic tool usage and safety as related to residential construction industry. Exposure will be given to electrical trades that work in constructing homes. The students will learn Job Safety, Bending of Conduit, Test Equipment, and Residential wiring. Students who are considering a career in the electrical industry should take this class. Projects will be wiring residential circuits and panels. Students will also learn construction concepts.
Courses
CONSTRUCTION TRADES - (6245/6)
FULL YEAR - 2 HOURS /2 CREDITS
GRADES 9-12)
The Construction Trades course is designed to be an introduction to the construction industry. Students are given the opportunity to develop skills related to building and construction trades. Skills will be developed through practical, hands-on experience, as well as classroom instruction in residential rough and finish carpentry, rough and finish electrical, rough and finish plumbing, masonry, insulation, drywall, paint, exterior siding, roofing, gutters, carpet, hardwood flooring, tile, and sheet metal work. Students will gain understanding and practice in business management, design, job costing, contracts, sales, marketing, scheduling, blueprint reading, surveying, and residential building codes. Job safety and instruction on the proper handling of power and hand tools will be taught, as part of the course. All students will earn an OSHA-10 certification. Basic math, English, and computer skills will be covered through classroom instruction and executed through on-the-job applications. Field trips will allow students to get a first-hand look at the ever-expanding field of construction and opportunities for employment. Upon completion of the program, students may have the opportunity to earn credit towards the Michigan Builders License: Pre-Licensure 60 Hour Training requirements. The course is a two-hour block for one year in length.