Anchor Bay Middle School South
Anchor Bay School District Mission: Empowering all students to succeed in an ever-changing world.
ANNOUNCEMENTS
Coronavirus Updates
The district will be posting updates and letters to the COVID-19 Resource Page. Click here to be redirected.
---
Check out AF JROTC

See our video on YouTube.

Click here to see our informational commercial on the program.
REMINDERS:
Please review the

school code of conduct and dress code

with your child as the school year begins. This can be found in the front of the agenda that each student was given this week.

Parent drop-off and pick-up

is in the back of the school. We did an awesome job of this in the first week! This allows for our buses to have access to the bus loop out front without any issues. Thank you!
If your child has any

medical issues,

please contact the main office and setup an appointment to go over the medical plan.

Athletic schedules

are located on the left side of the South home page.
POINTS OF PRIDE



---
PBIS

-Positive Behavior Interventions and Support
ALTERNATE BUS INFO
To the Parents or Guardians of Anchor Bay Schools that use alternate locations for either pick up or drop off of your students due to daycare, grandparents or divorce situations, please complete the Alternate Bus form and either email (pdeville@abs.misd.net), fax (586-725-4223) or mail 51890 Washington, New Balt. 48047

Click here for the form
Having this form early gets the correct information to you in August when the postcards go out. Thank you and have a safe and Happy Summer!
---
ATHLETICS
Sports Schedules, Coach Contacts/Tryout and 1st Practice Information can be found in the Athletics tab of the Website.

STUDENT ATHLETES MUST HAVE A CURRENT SPORTS PHYSICAL ON FILE TO TRYOUT/PARTICIPATE DATED AFTER APRIL 15TH, 2019.
UPDATED Eligibility Dates 2019-2020
September 20 October 4 October 18 November 1
November 26 December 13 January 10 January 24
February 7 February 21 March 6 April 17
May 1 May 15
---
Congratulations to the following Anchor Bay Staff on achieving the POSITIVITY AWARD from a MSS volleyball player:
Karin DeLeeuw Michael Seaton Julie Sheridan
Carina Anderson Marilyn Wozniak Andy Dickman
Kirsten Fouracre Amanda Piper Bridget Baumgarten
Kim Sorvala Sarah Hurley Brittany Korkate
Kristan Brees-Fetterhoff Debbie Lawrence Tom Mittelstadt
Jessica Marzicola Scott Oranchak Kelly Moore
Kellie Roberts
SCHOOL STORE​​​​​​​
SCHOOL STORE: "THE TREASURE CHEST"
OPEN every Thursday during lunch starting November 1st!
*212 tokens are equivalent to $1.00 please encourage your student to use them in here.
Hoodie - $20.00 (adult sizes S - XL)
Sweatpants - $20.00 (adult sizes S - XL)
Red Pirate T-shirt - $10.00 (adult sizes S - XL)
Pirate Prowl T-shirts - $5.00
Most small items - $1.00

Spirit Wear - Hoodie & Sweatpants

Spirit Wear - T-shirt
*prices listed above

Contact Us
Middle School South
48650 Sugarbush
New Baltimore, MI 48047
Phone: (586) 949-4510
Fax: (586) 949-4739
Phil Latona

Principal
Office Manager
Michele Allen
Counseling
Counselor - Brittany Korkate
Counseling Para - Marguerite Reinhard
School Times
Standard Day: 8:04AM - 2:52PM
Half Day: 8:04AM - 11:29AM
Athletics
All Anchor Bay Middle School South students who are interested in participating in athletics must have a current physical on file in the Main Office prior to trying out, practicing, and/or competing in games. The physical must be dated ON OR AFTER April 15, 2019. Physical forms are available in the Main Office or by using the link below.
Sporting Event Entrance: Doors 3 & Doors 6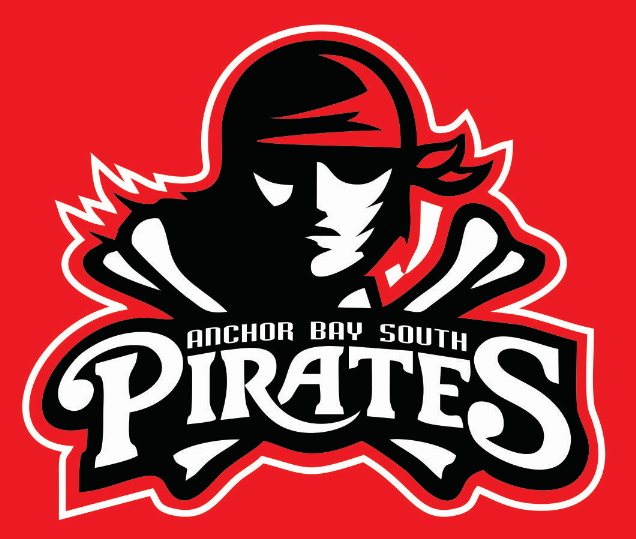 Click here for Choir News
https://anchorbaymss.seatyourself.biz
https://search.seatyourself.biz/webstore/accounts/anchorbaymss/buy-tix?d=0