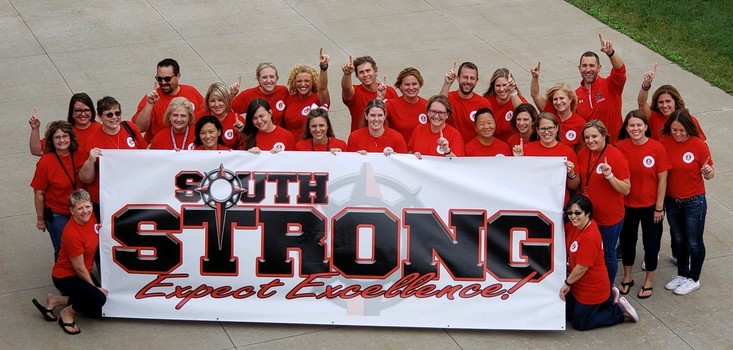 Anchor Bay Middle School South
Announcements
Upcoming Events & Reminders

May 4th - No School for Students - Professional Development Day for Teachers
May 4th - 4th Qrt Progress Reports Emailed Home
May 5th - PSAT Make-Up
May 28th - 1/2 Day of School - Memorial Day Weekend
May 31st - No School - Memorial Day
Teacher Appreciation Week is May 3-7, 2021!
Please see the attached MDHSS letter regarding Anchor Bay School Lunch: MS South Lunch Flyer 2021.pdf
Athletics Update:
Schedules are posted online in the red athletics tab and are subject to change. As the seasons start for softball and track, coaches will also communicate any changes.
Bus transportation will be provided to and from all away competitions.
If you have not done so already, please complete the athletic emergency card found on the MSS website main page. If you did this for a sport already this year, you do not need to complete it again.
After School Tutoring

Monday - Thursday via zoom from 3pm-4pm
Starts this Monday, Oct. 26th
Students will access the tutoring zoom sessions from any of their teacher course pages
---
Order Your 2020-2021 Yearbook!
ALL orders are done online, please visit www.jostensyearbooks.com and
follow the directions to our school.
---
Students of the Week
Nov. 30-Dec. 4, 2020
Click on the link to view the

Students of the Week presentation.
Dec. 7-Dec. 11, 2020
Click on the link to view the video

Students of the Week Video
Dec. 14-Dec. 18, 2020
Click on the link to view the video Students of the Week Video
Congratulations to all the students nominated and the winners!
---
ATHLETICS
SWIM INFORMATION
Track, Softball and Swim start Monday, April 19th.
Track Practices will be M-Th 3:00-4:30pm
SOFTBALL Practices will be from 1:45-3:45pm

Coaches know that virtual students will get to the school after their 6th hour and may need drive time. Athletes can be dropped off at the softball field.
Athletes must have a physical on file from Last Year dated after April 15, 2019. Additionally, ALL athletes must complete the Required Health Form at the link below. If you mark "yes to any of the questions on the MHSAA Sports Health Questionnaire, you will need to get an UPDATED physical before participating. Locker rooms will not be available, and students should bring their own water bottle.
**ALL Athletes participating in spring sports will be COVID Tested at school once a week, starting Monday, April 19th:
*** Prior Positive COVID PCR Tests: Individuals who have recovered from a laboratory-confirmed COVID-19 diagnosis in the past three months (90 days) have quarantined and remain symptom-free may participate in team sports activities without antigen testing if they can provide a letter from a doctor or documentation confirming a positive PCR test. The individual must have had a positive PCR diagnostic test within the past three months. A positive rapid test or antibody test, only, is not sufficient to waive the current weekly test requirement.
REQUIRED TESTING FORMS:
MI Safer Sports COVID-19 Testing Program: Participant Code of Conduct
Consent and Registration Form for Rapid COVID-19 Antigen Test
Softball- Tests every Monday
Track- Tests every Tuesday
Swim - TBD
Athletic Emergency Card- To be completed for all athletes by their parents.
High School Dance Tryouts for incoming 9th grade students 2021/22
May 24,25,26 - 5:00-8:00 pm at Anchor Bay High School
High School Cheer
High School Cheer tryouts - June 1-3 - 2:30-5:30 at Anchor Bay High School
MORE INFORMATION CAN BE FOUND AT WWW.ABTARS.COM
---
Reminders
Remember to check grades on Parent Portal instead of Schoology. Parent Portal is the official place that grades are stored and updated.

Thank you to all the parents who have dropped off and/or picked-up their child in the back of the school. The front of the building is for buses only in the AM & PM.

We do have students with peanut allergies, and we ask that no shelled peanuts be brought into school. Food that is processed with peanuts is permitted. We ask that no actual peanut shells be brought into the building.

If you drop your child off late to school, please call to the main office to let them know.

We will be continuing our new lockdown protocol known as A.L.I.C.E this school year.
---
Medical Forms
Please contact the Middle School South office if your child needs to take medication during the day. Medication forms will be made available.
---
In-Person/Virtual Schedule with Class Times
Middle School South Daily Schedule 2020-21

All students follow the same schedule during the school day
Doors will open for student drop-off each morning at 7:50 am
Minutes
Time
1st Hour
43 Class
8:13am - 8:56am
2nd Hour
43 Class
9:01am - 9:44am
3rd Hour
43 Class
9:49am - 10:32am
4th Hour
Lunch During This Hour
10:37am - 12:03am
5th Hour
43 Class
12:08pm - 12:51pm
6th Hour
43 Class
12:56pm - 1:39pm
Dismissal
1:

39pm
Check out AF JROTC

See our video on YouTube.

Click here to see our informational commercial on the program
Alternate Bus Info
To the Parents or Guardians of Anchor Bay Schools that use alternate locations for either pick up or drop off of your students due to daycare, grandparents or divorce situations, please complete the Alternate Bus form and either email (pdeville@abs.misd.net), fax (586-725-4223) or mail 51890 Washington, New Balt. 48047

Click here for the form
Having this form early gets the correct information to you in August when the postcards go out. Thank you and have a safe and Happy Summer!
---
School Store
School Store: "The Treasure Chest"
OPEN every Thursday during lunch starting November 1st!
*212 tokens are equivalent to $1.00 please encourage your student to use them in here.
Hoodie - $20.00 (adult sizes S - XL)
Sweatpants - $20.00 (adult sizes S - XL)
Red Pirate T-shirt - $10.00 (adult sizes S - XL)
Pirate Prowl T-shirts - $5.00
Most small items - $1.00

Spirit Wear - Hoodie & Sweatpants

Spirit Wear - T-shirt
*prices listed above

Contact Us
Phil Latona

Principal
School Times
Standard Day: 8:13am - 1:39pm
Info/Documents

Laptop Login Directions


MSS Annual Education Report 2019-20


Bridge Building Flyer


Concussion Awareness Form


Code of Conduct


Course Guide 2021/2022


6th Grade Schedule Form


7th Grade Schedule Form


8th Grade Schedule Form


Glencoe Math Online Resource Document


Glencoe Math Night PowerPoint


PowerSchool Phone App


Schoology Login & Assignment Submission Directions


Title I Parent Letter


Tutoring Information


Volunteer Form
Athletics
Athletics
Sports Physicals
2020-2021 ATHLETES ARE NOT REQUIRED TO GET PHYSICALS this year, IF a student has one on file from LAST year.
Athletes are exempt from getting a physical for the 2020/2021 athletic year if there is a valid physical on file dated on or after April 15, 2019. The health form at the below link must also be filled out. If you mark "yes" to any of the questions on the MHSAA Sports Health Questionnaire, you will need to get an updated physical before participating. Physical Forms are available below.

Required Health Form

Athletic Emergency Card- to be completed for all athletes by their Parents
Sports Schedules, Coach Contacts/Tryout and 1st Practice Information can be found in the Athletics tab of the Website as the seasons approach. Please email Mrs.Hunter with any questions at phunter@abs.misd.net
---
Sporting Event Entrance: Doors 3 & Doors 6
The AB Fishing Club – a multi species, learning, noncompetitive club – attending local and free events that we host or sponsor. This is no fee club open to all students who reside in the ABSD area. Students in grades 6 to 12, wishing to join the Anchor Bay Fishing Club. please email Captain Shawn Elliott, anchorbayfishingclub@gmail.com