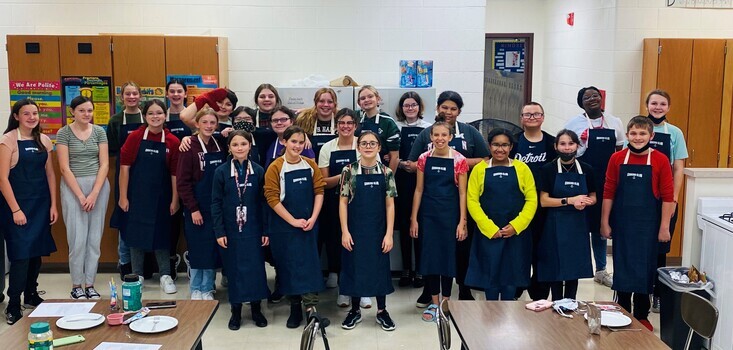 Anchor Bay Middle School South
Announcements:
Reminders and Upcoming Events
---
Yearbooks are available in the main office $55.00 cash only!
---
Below are reminders and upcoming events for June, 2023.
The last day of school is this Friday, June 9th.
Final exam schedule

Wednesday: ½ Day - 30 classes - 8:04am-11:29am
Thursday: ½ Day - 1st , 2nd & 3rd Hour Exams - 8:04am-11:29am
Friday: ½ Day - 4th , 5th & 6th Hour Exams - 8:04am-11:29am

Staff will be outside to wave goodbye to the buses at dismissal.
Parents are welcome to take pictures in front of the school.
Please park in the Shoreliner Parking lot if you plan on coming up to the school at dismissal.
4th Quarter Report Cards will be posted on June 14th
New Drop-Off/Pick-Up
Important - New Drop-Off/Pick-Up Procedures for the back of the school. Please see the attached document below that was created by MSS and Chesterfield Police Department.
Click Here:

MSS Drop-Off/Pick-Up Map 2022-23
---
Positivity Project
We are extremely excited to be implementing the Positivity Project
(P2) at Middle School South this school year! The mission of this program is to empower America's youth to build positive relationships and become their best selves. P2 will also partner with South and equip staff with the resources, training, and strategy to teach their students.

Please click here for more information on the Positivity Project.
---
Attendance
If your child is absent from school, please call us at 586-949-4510 before 10:00AM. If you get the voice mail message, use ext.2101
---
MSS After School Tutoring
South will be offering after school tutoring with the purpose of helping students develop a deeper level of understanding on performance tasks/classwork in the following subject areas: Math, Science, ELA, Social Studies.
**UPDATE** Tutoring sessions will be held EACH DAY, Monday - Thursday. Each session will be one hour in length from 3pm – 4pm in room 311. Transportation home will not be provided. Students are free to be picked-up in the front of the building anytime throughout the hour.

If you are interested in having your child take advantage of this opportunity, please complete the following permission slip info.

Please click here to complete the permission slip.

Secondary Academic Support Newsletter
---
AF JROTC After School Club
Updated 2022/23 School Year information! Join the Air Force JROTC After School Club! Come meet the High School Cadets and have fun playing team building games and activities. Learn the art of leadership, teamwork and followership from High School students and have a good time with friends. Meetings will be on the 2nd & 4th Wednesdays beginning 9 Nov 22.

Please have your parent/guardian sign the attached form.

Watch a Video to Learn More about the Club
---
Athletics

MSS Athletics Page
Reminders
Remember to check grades on Parent Portal instead of Schoology. Parent Portal is the official place that grades are stored and updated.

Thank you to all the parents who have dropped off and/or picked-up their child in the back of the school. The front of the building is for buses only in the AM & PM.

We do have students with peanut allergies, and we ask that no shelled peanuts be brought into school. Food that is processed with peanuts is permitted. We ask that no actual peanut shells be brought into the building.

If you drop your child off late to school, please call to the main office to let them know.

We will be continuing our new lockdown protocol known as A.L.I.C.E this school year.
---
Medical Forms
Please contact the Middle School South office if your child needs to take medication during the day. Medication forms will be made available or can be found on the enrollment page.
Alternate Bus Info
To the Parents or Guardians of Anchor Bay Schools that use alternate locations for either pick up or drop off of your students due to daycare, grandparents or divorce situations, please complete the Alternate Bus form and either email (pdeville@abs.misd.net), fax (586-725-4223) or mail 51890 Washington, New Balt. 48047

Click here for the form
Having this form early gets the correct information to you in August when the postcards go out. Thank you and have a safe and Happy Summer!
---
South Event and Athletics Calendar
Contact Us
Administration
Paige Hunter
Assistant Principal
Office Staff
Michele Allen
Office Manager
Laurie Allen
Data Para Professional
School Times
Standard Day: 8:04am - 2:52pm
Bell Schedule
| | |
| --- | --- |
| 1st Hour | 8:04AM - 9:06AM |
| 2nd Hour | 9:11AM - 10:08AM |
| 3rd Hour | 10:13AM - 11:10AM |
| 4th Hour | 11:15AM - 12:45PM |
| 1st Lunch | 11:15AM - 11:45AM |
| 2nd Lunch | 11:45AM - 12:15PM |
| 3rd Lunch | 12:12PM - 12:42PM |
| 5th Hour | 12:46PM - 1:43PM |
| 6th Hour | 1:48PM - 2:52PM |

Laptop Login Directions


MSS Annual Education Report 2021-22


2023 Cedar Point Permission Slip


Concussion Awareness Form


Student Handbook and Code of Conduct


Course Guide 2022/2023


6th Grade Schedule Form


7th Grade Schedule Form


8th Grade Schedule Form


Glencoe Math Online Resource Document


Glencoe Math Night PowerPoint


NWEA PARENT TOOLKIT LINK

Positivity Project Parent Information


PowerSchool Phone App


Schoology Login & Assignment Submission Directions


Title I Parent Letter


Tutoring Information


Volunteer Form
Online Enrollment & Annual Forms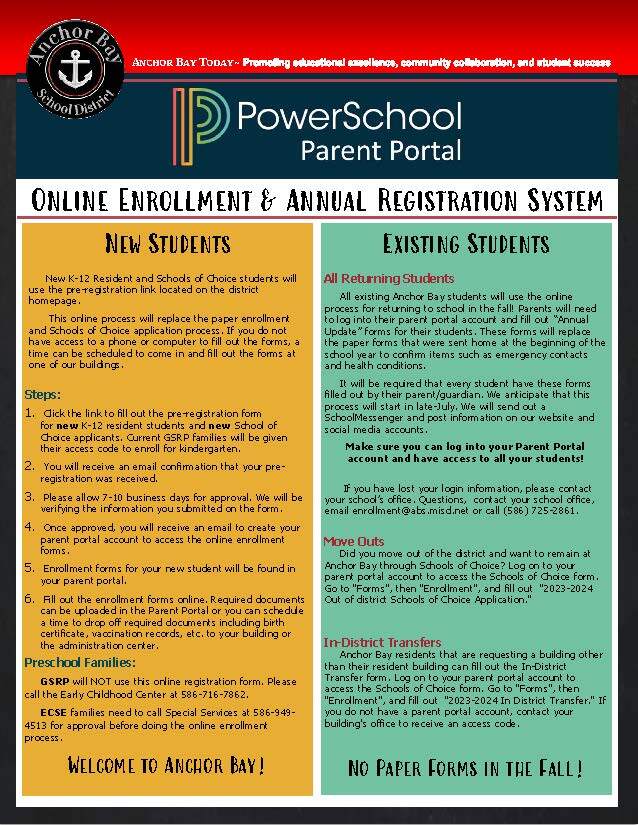 Both new and existing students will use our online enrollment and registration system!
Anchor Bay Summer "Pop-Up" Classes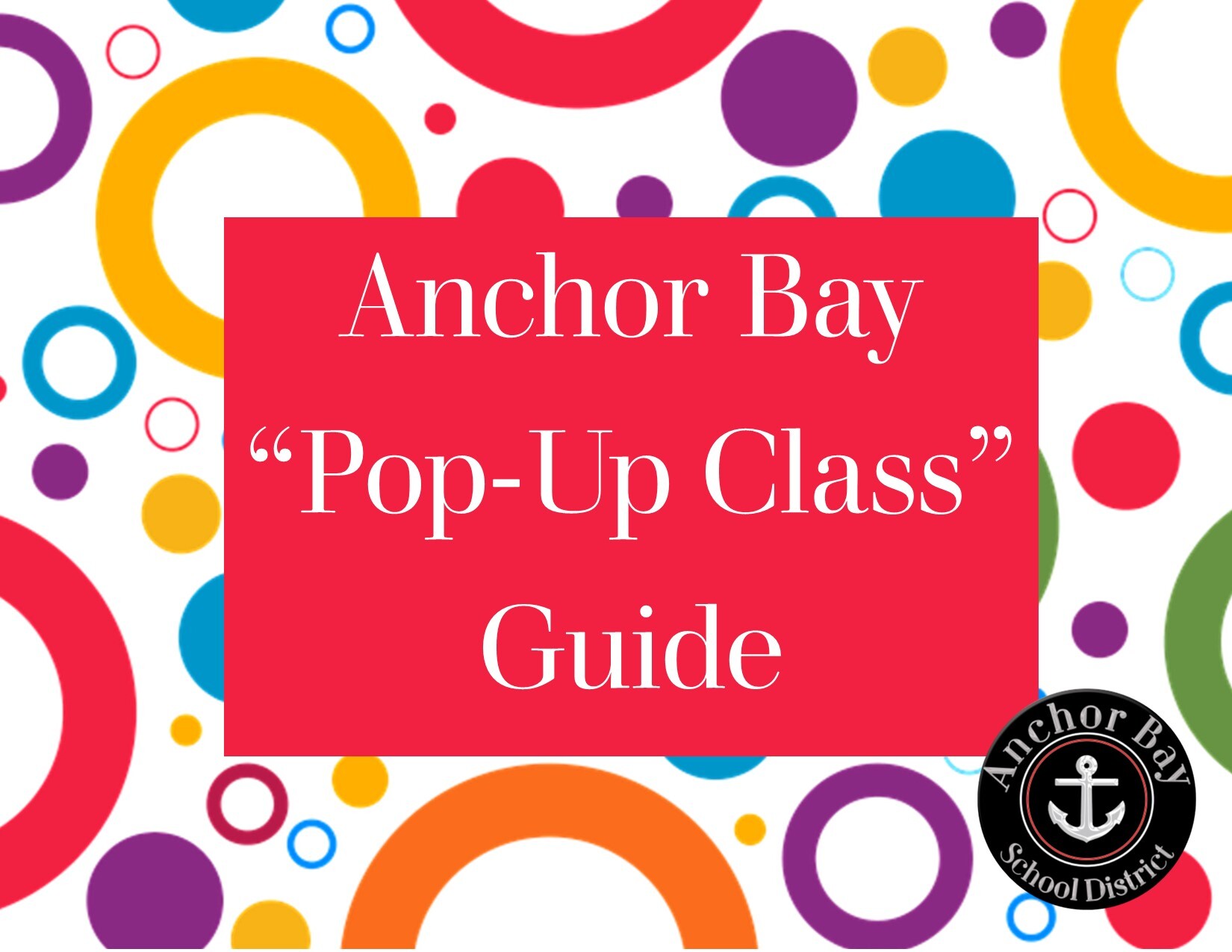 All classes will be held at Middle School South unless noted otherwise in the guide.
Here is the registration link for the Summer Pop-Up Classes: https://www.locallevelevents.com/events/details/26585
Deadline is June 9th!
Spring Digital Newsletter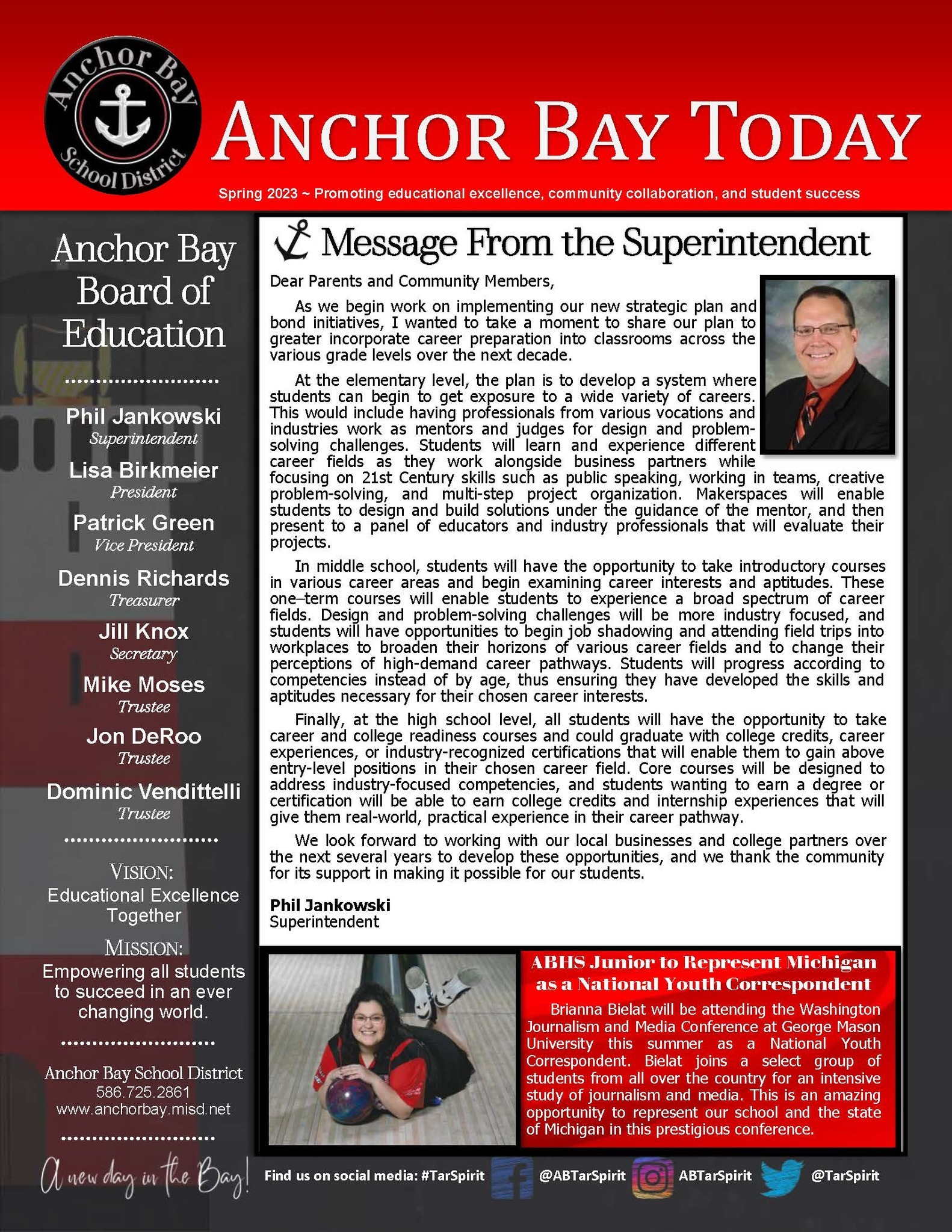 Thank you Voters!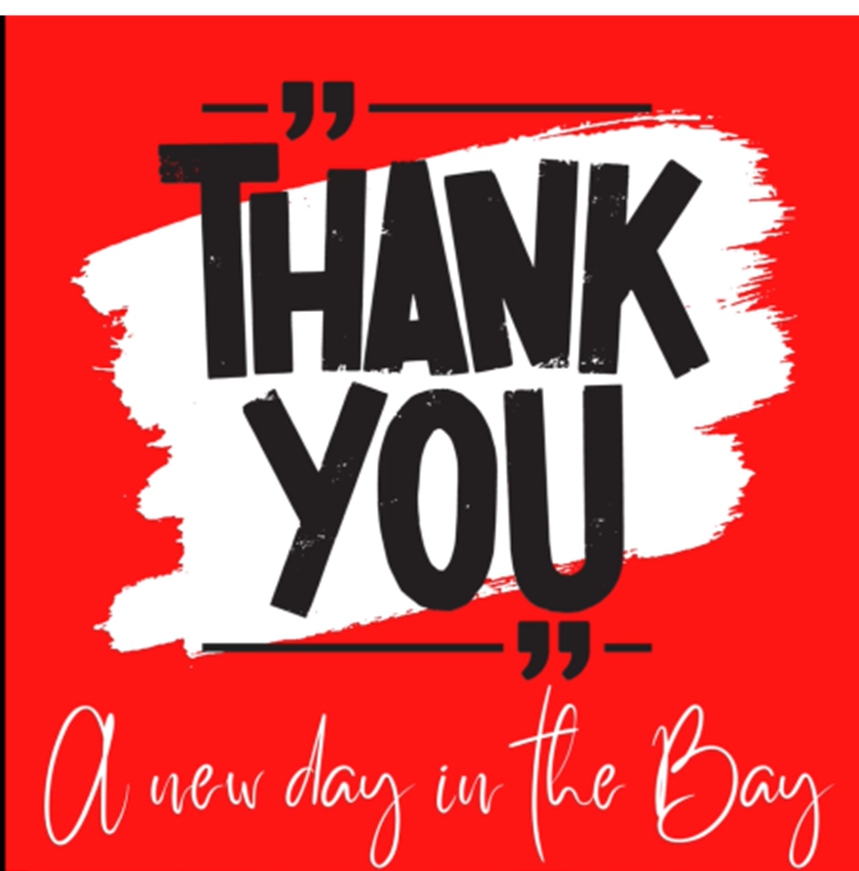 Thank you voters for making it a new day in the Bay!
Approval of the bond proposal will improve student safety and security, enhance the K-12 educational program, address aging infrastructures, correct geographical concerns, increase building efficiency, and protect the community's investment in its schools.
In the coming months, we will keep the community informed as we move forward with the bond proposal projects.
Thank you to all the parents, students, staff, and other members of the community who helped us inform people about the bond proposal.