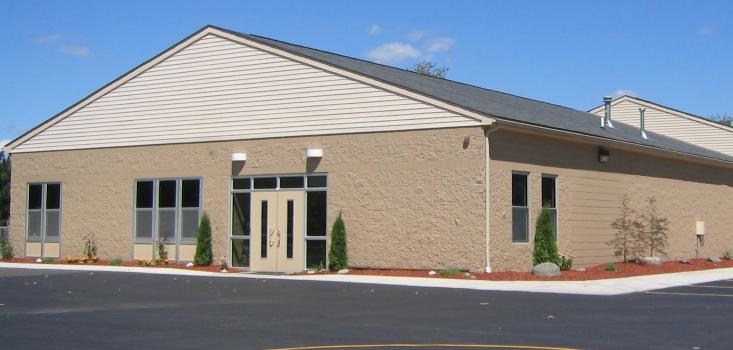 Early Childhood Center & School Age Childcare (SACC)
The Anchor Bay School district takes great pride in a curriculum that is both current and meets the state and national standards. Use the links below to our district curriculum for early childhood and our young fives and a reference for common early childhood terms. The Family Fundamentals is a pilot program the Michigan Department of Education developed to assist students in preparing for the next grade level. It includes many useful activities and information of how to assist your student.


Early Childhood Standards of Quality
2023 - 2024 Pre-School Registration - link below
Your child must be 3 by 9/1/23 for 3-yr-old traditional preschool
Your child must be 4 by 12/1/23 for the 3yr/4yr traditional split class
Your child must be 4 by 9/1/23 for 4-yr-old traditional preschool
**ALL CLASSES ARE CURRENTLY FULL AND ARE WAITLIST ONLY.** When you register you will be put into a "wait room". You will receive an email telling you the registration is pending. You are not accepted into a program until you receive a confirmation email stating your registration is confirmed and a payment receipt. Please note your account must be up to date in order to register for next year.

https://absd.reg.eleyo.com/


Family Social History Form and Child Observation Form


Concussion Awareness


Health Appraisal Form


Notification of Licensing Regulation
We will also need: Original birth certificate (we will make a copy), Driver's license (we can make a copy), 2 proofs of residency (any mail will work - you do not need to live in-district), and immunization records. Please turn in all paperwork by July 1.
---
Anchor Bay Offers
Free Preschool Program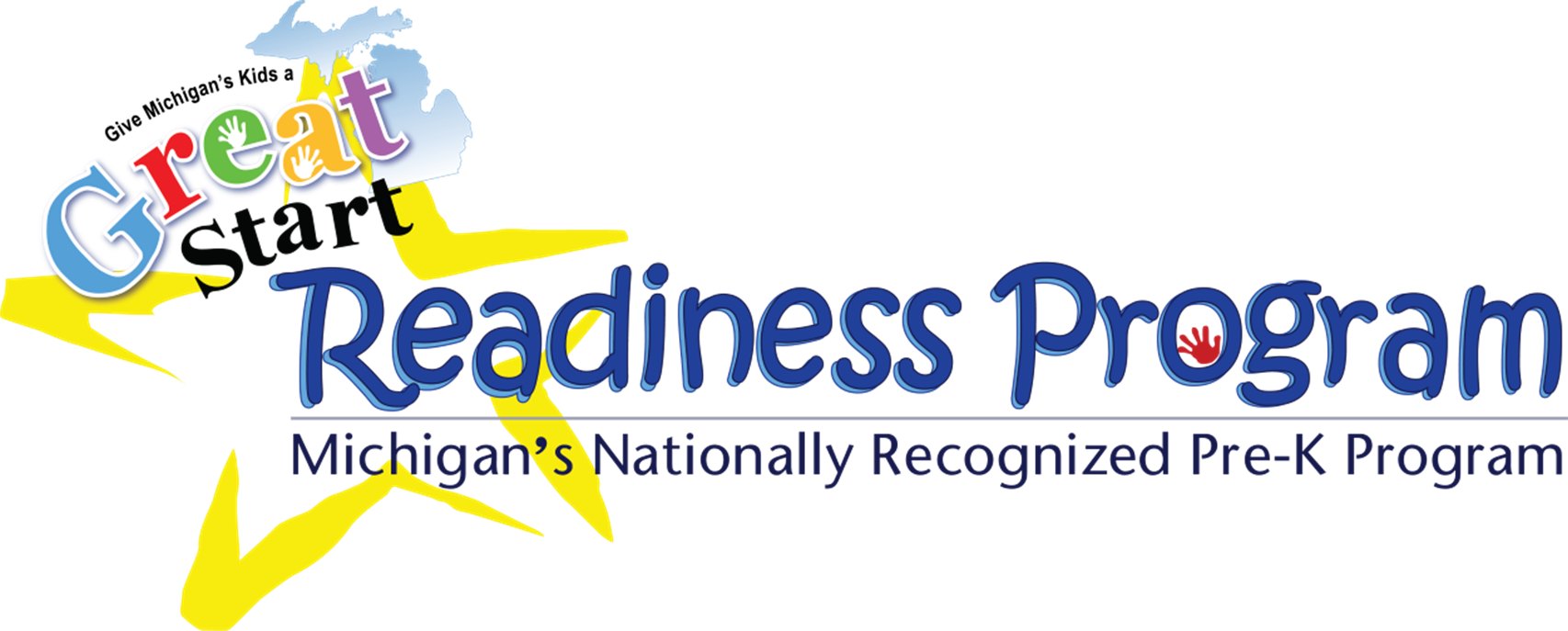 The Great Start Readiness Program or GSRP is a free preschool option for children who:
Will be 4 years old on or before September 1, 2024

Live in the Anchor Bay District, Macomb County, or St. Clair County

Meet "At Risk Eligibility Factors" as determined by the Michigan Department of Education

Full Day Classes are held Monday - Thursday

Breakfast, lunch, and snacks are provided.

Bus Transportation is available to Anchor Bay Families.

GSRP follows "Creative Curriculum" - Anchor Bay Preschool Core Curriculum aligns with Kindergarten standard.

Click here for more information
GSRP Application Forms
Please call 586-716-7862 for more information. After reviewing your application you will be contacted for a meeting to discuss the program.
---
Registration for 2023/2024 SACC - Limited Openings!
Register at: https://absd.reg.eleyo.com
The following forms must be printed and signed and turned in the 1st day your child attends SACC:or before or your child cannot attend SACC.
---
Parent Handbooks
Please read our Parent Handbooks to learn more rates, hours, and other importation information:

Preschool Parent Handbook 2023-24

SAC Parent Handbook 2023-24
Anchor Bay & Early Childhood News

View Archives
ABHS Senior Thomas Westphal Claimed the Foot Locker Cross-Country Championships Regional Title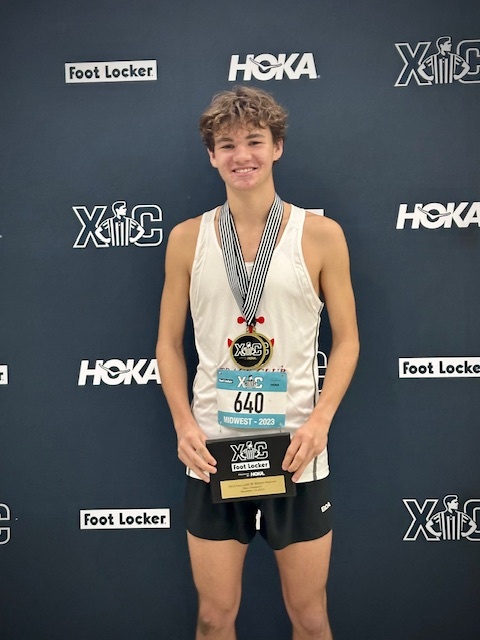 Anchor Bay High School senior Thomas Westphal made school history on Saturday, November 25t, when he claimed the Foot Locker Cross-Country Championships Regional Title in Kenosha, Wisconsin. Competing against runners from 12 states, Thomas surged to the front at the mile mark and never looked back, posting a time of 14:59. Thomas, a Michigan State University commit, now advances to compete at the Foot Locker national championships in San Diego, Calif. on Dec. 9. He is the first ABHS athlete to qualify for the cross-country national meet since 1983.
ABHS Starts Comfort Closet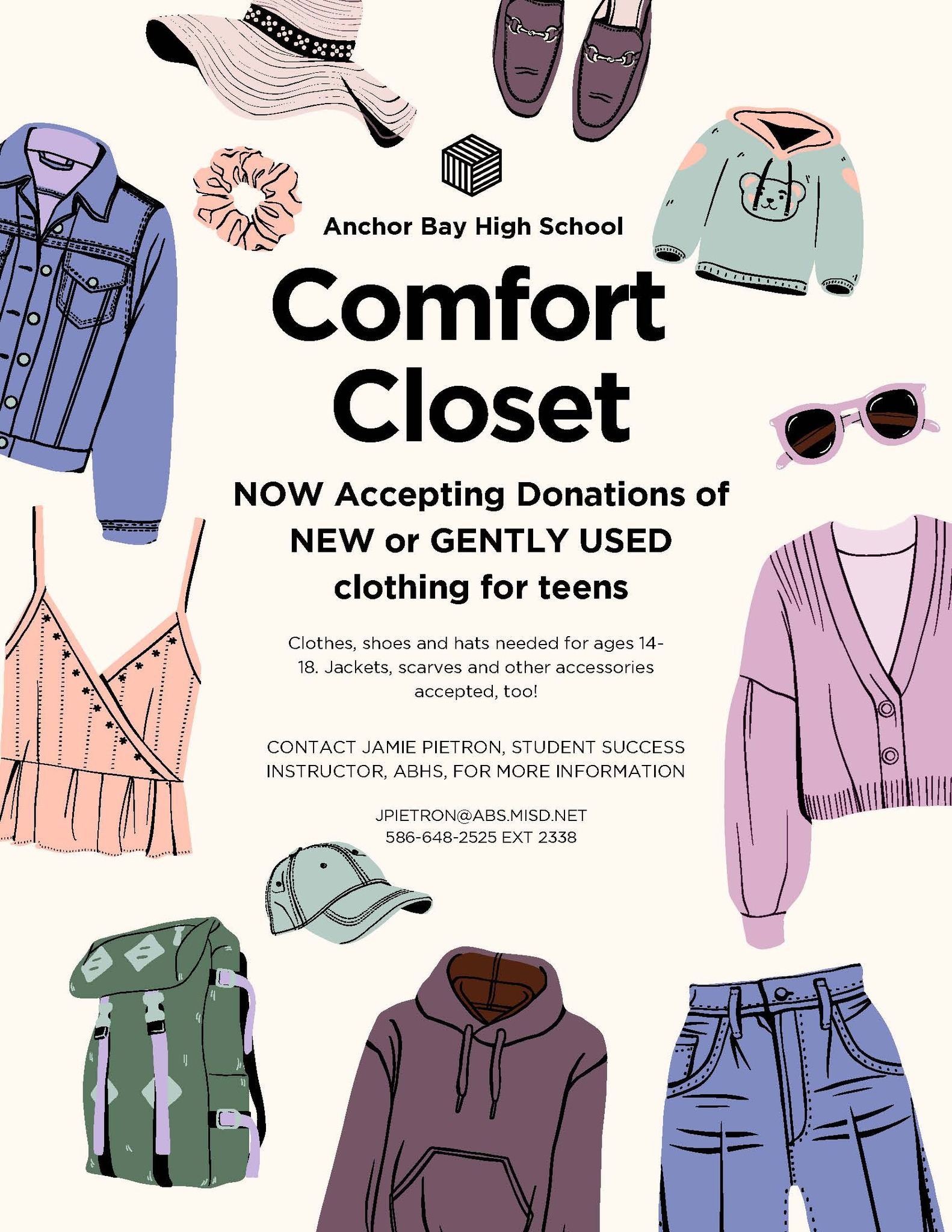 Click here for more information and how to donate to the ABHS Comfort Closet.
Thank You Voters!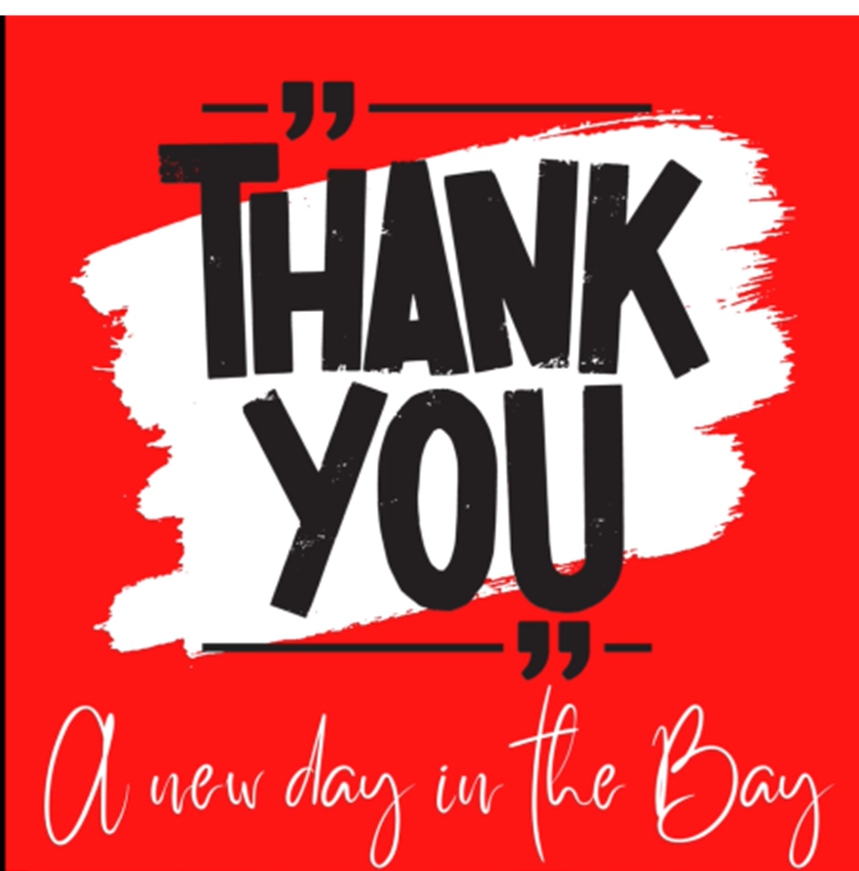 Thank you voters for continuing to support Anchor Bay School District. The Non-Homestead Millage Renewal will allow the district to receive its full per-pupil foundation amount from the State.
Fall 2023 District Newsletter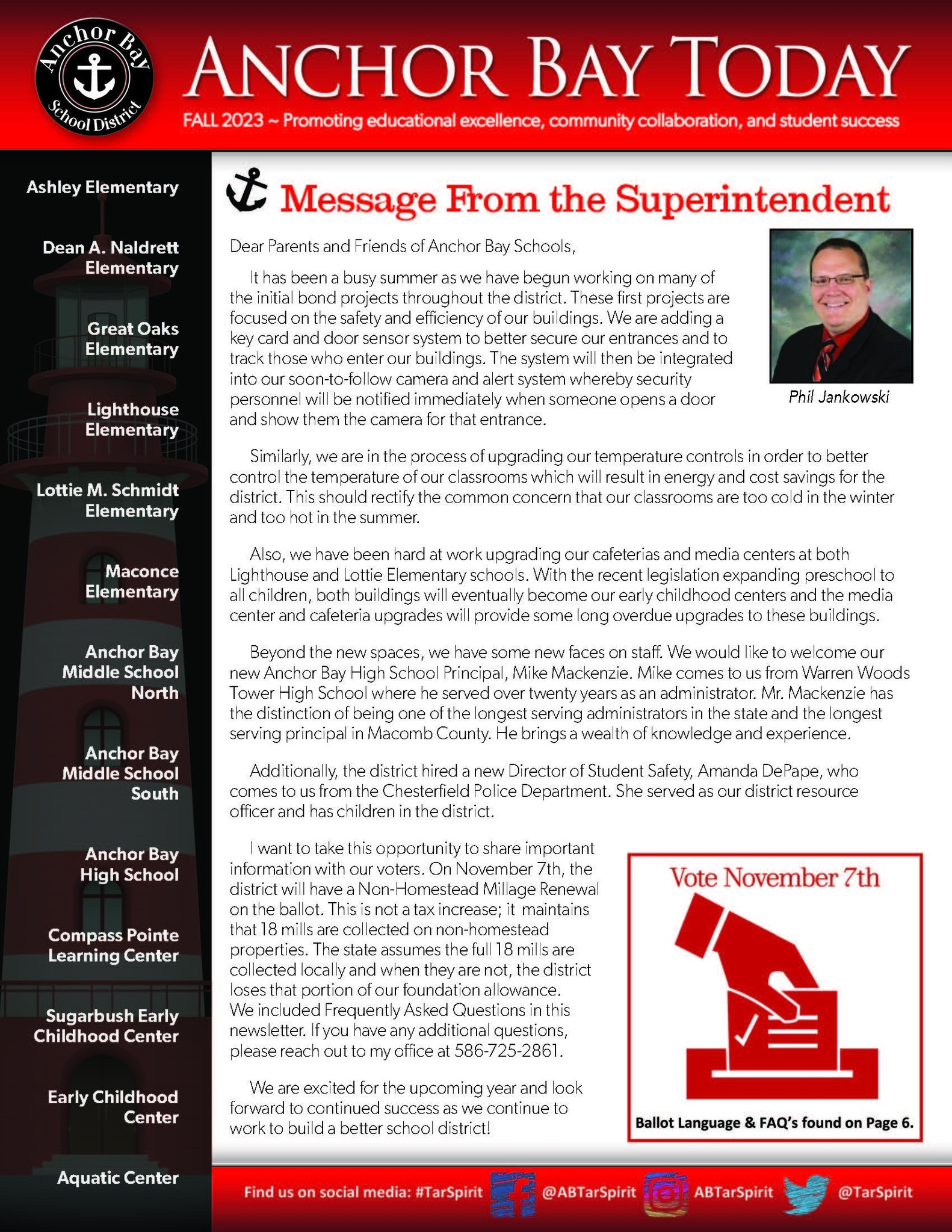 Anchor Bay High School Clubs Application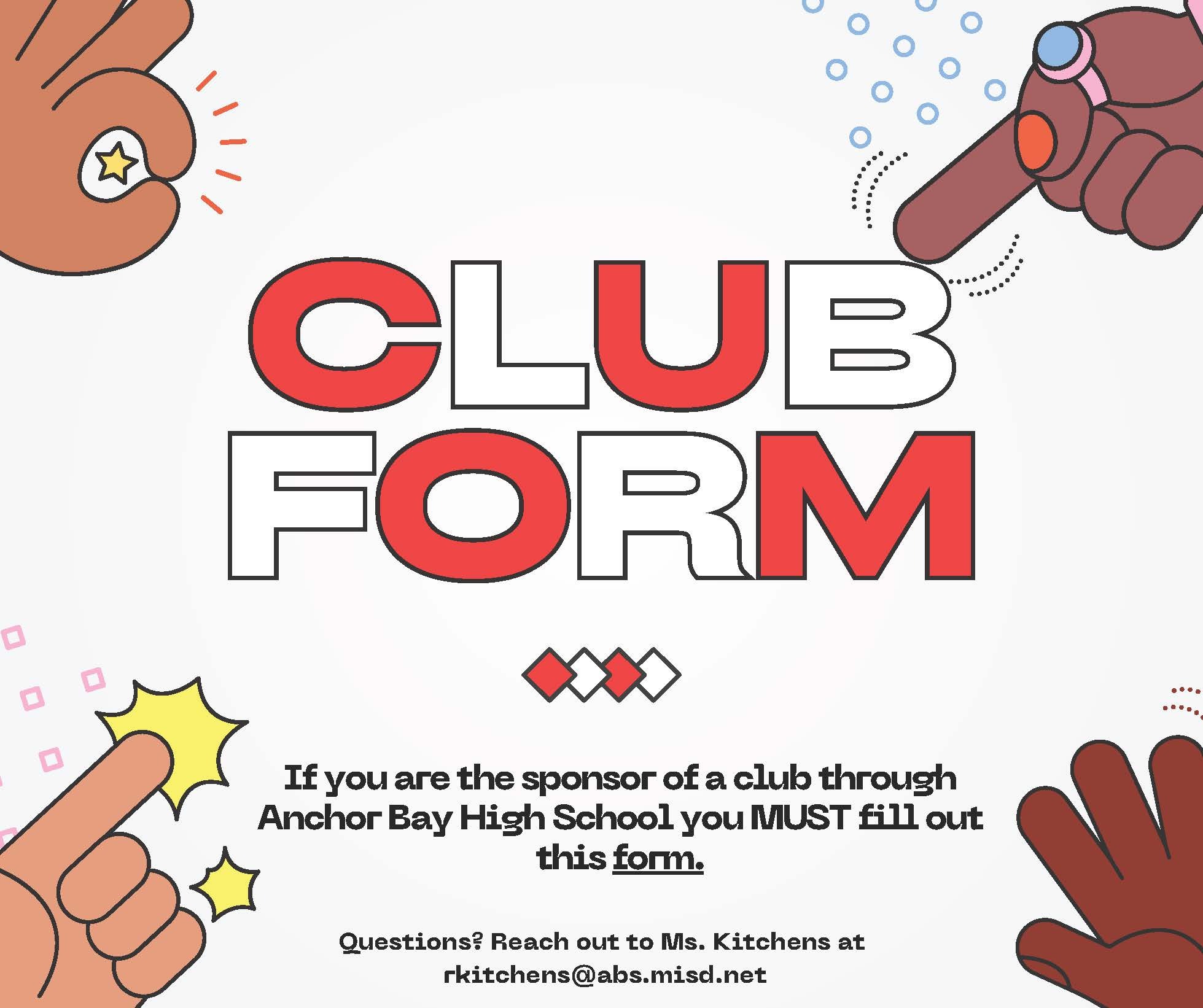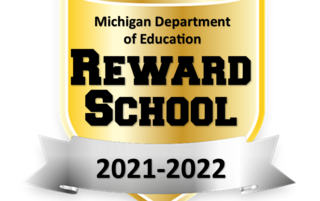 2021-22 Reward Schools
Congratulations to our 2021-22 Reward Schools: Lottie M. Schmidt Elementary, Great Oaks Elementary, Francois Maconce Elementary, and Lighthouse Elementary. This places these buildings among the top performing schools in the state. These four schools are also among 47 schools that were selected in Macomb and St. Clair counties.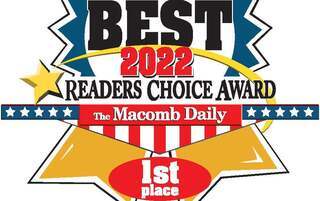 Anchor Bay Receives Readers Choice Award 1st Place