Maconce Elementary
Mission Statement
Francois Maconce Elementary School, in partnership with the community, will provide a learning environment by delivering quality instruction that promotes curiosity, creativity and the desire in students to reach their full potential.
Current Information
Welcome Back - School Office is Open fro 8:00 a.m. - 3:00 p.m. Come in to enroll.
Quick Reminders:
Kindergarten Bus Ride and Snack- Monday, August 26th at 12:30 p.m.
Maconce Back to School Bash - Wednesday, August 28th 6:00 -7:30 p.m.

School Supply List 2019-2020


Welcome to Kindergarten Letter 2019-2020


Back to School Information Flyer 2019-2020
Enrollment Info

Enrollment Packet

Out of District SOC Forms
1st-5th grade Enrollment Packet
Click Here
Want the school calendar to update to your phone? Click on the small calendar icon next to UPCOMING EVENTS for directions.
Spotlights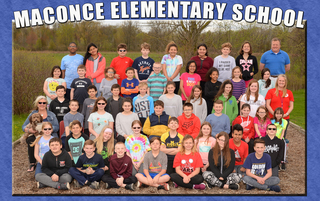 Congratulations to our future Middle Schoolers!
Maconce departing 5th grade class: Aaliya Akins, Dillian Ballard, Rayna Braga, Isabella Brodzik, Logan Buchholz, Madison Buchholz, Mackenzie Elam, Ava Fileccia, Brennan Fronczak, Christian Geck, Lloyd Griffith, Mylee Hahn, Halton Hucul, Tenaya Jendza, Ella Jones, Lilyanna Jupiter, Christian Kiernicki, Paige Krumm, Reese Lambert, Patrick McGrath, Logan McManamay, Danica Miller, Jeffery Rhodes, Thomas Robinson, Tyler Short, Blake Taube, Joseph Walker, Megan Walker, Miley Wehrwein, Avery Bowman, Alisyn Bravard, Monica Cramer, Ben Crandall, Jordan Curtis, Byron Dunbar, Christian Duncan, Yariana Felix-Garcia, Giovanni Foster, Miguel Garcia, Landon Gatzke, Kayla Geiger, Maria Gomez Huante, Rylee Greer, Ruby Hafez, Olivia Johnson, Dylan Lehti, Alexis Liggett, Mya Maerz, Tyler Moore, Stacey Paredes, Madison Saganek, Michael Schoenberg, Kaleb Shellenbarger, Kelsey Shields and Samantha Spurlock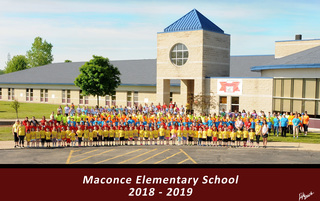 Field Day 2019
Wonderful day had by all! Great staff, students and parents. Thank you to all the volunteers from the community that also turned out to help and the awesome support of our PTO.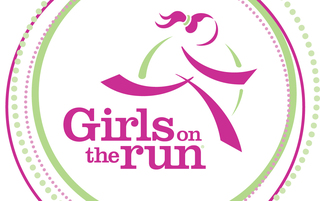 Girls on the Run
The online registration link is http://www.gotrdetroit.org/locations/ and Maconce is right at the top. Open to girls grades 3rd, 4th and 5th. Ms. McGowan will be coaching again this year. GOTR begins September 16th, Mondays and Wednesdays 3:45 - 5:00 p.m.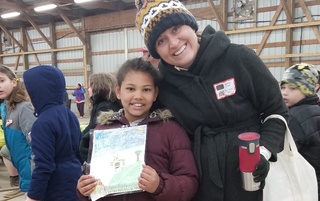 MacombMacomb County Farm Bureau Project Red poster contest
Laylea Johnson came in 3rd place for her poster entry for the 2019 Project Red Field Trip at the Armada Fair Grounds. Laylea is in Ms. Hazens 3rd grade.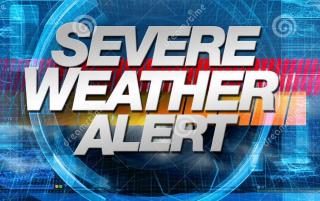 Severe Weather Preparedness
From Michigan State Police: Please take a few minutes to review the Family Emergency Plan with your family. You can print this resource at www.michigan.gov/MIREADY and complete it with their families at home. This document will help families create a communication plan to use in the event of severe weather or any other emergency situation. We also have an educational coloring book featuring Prep and Parey available for download and print. While Tornados do not give us warning when they will strike, we can take steps to be more prepared. A prepared community is a resilient community. http://www.michigan.gov/msp/0,4643,7-123-72297_60152_68558-450845--,00.html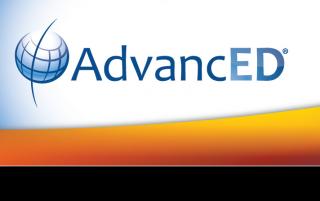 North Central Association Accredited
Through accreditation and related services, NCA CASI continuously improves the quality of education and challenges education entities to prepare each and every learner for success. All Anchor Bay Schools are NCA Accredited.
Standard Day:
8:41AM—3:32PM
Half Day:
8:41AM—12:10PM

September Lunch Menu
Important School Information
Medical Forms and Information

Medical forms can be found on the district enrollment page
August 19, 2019
2019-2020 School Calendar
The Board of Education approved the proposed calendars based on pending legislation regarding Professional Development hours. Calendar A represents the calendar that will be in place until/if the passage of Section 101(10) of the State School Aid Act. Section 101(10) is new language that would permit the district to count qualifying Professional Development for teachers as hours of pupil instruction. Calendar B represents the calendar that will be used if/when Section 101(10) of the State School Aid Act is passed.
July 31, 2019
November 5th Election is Important for Student Funding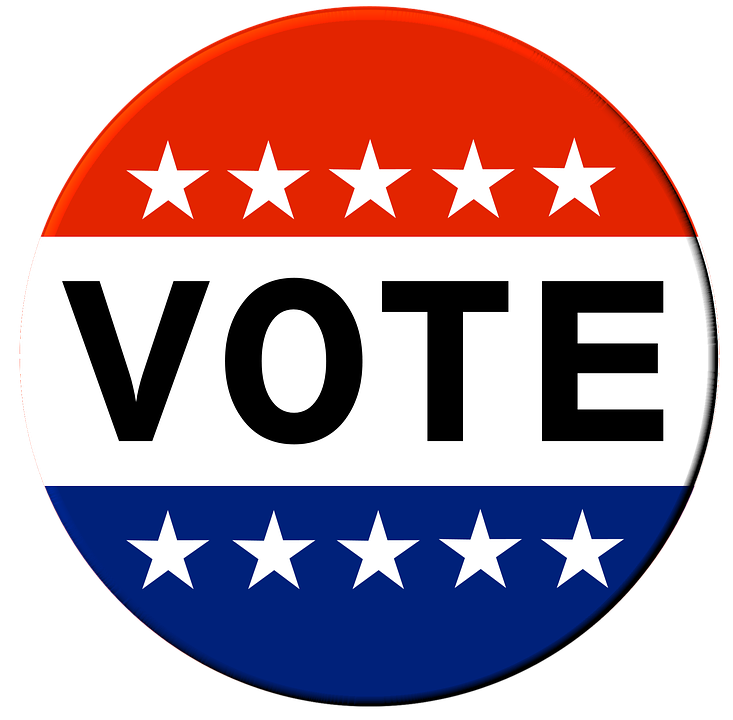 Anchor Bay has a non-homestead millage restoration on the November 5th ballot. This two-mill restoration will allow the district to restore the 18 mills levied on non-homestead properties and hedge against future Headlee rollbacks through 2024.