Naldrett Elementary
Mission Statement
Naldrett staff, in partnership with parents and community, will provide, nurturing learning environment in which students can achieve their full potential.
Important Information and Links
Spring Book Fair Starts Monday!

Book Fair Flyer and Schedule
Girls On The Run Info Available - See Newsletter Tab!

2022-2023 Student Calendar

22-23 Student Calendar REV 1-27-23
Title I Information

Title I Parent Letter
Winter 2023 Digital Newsletter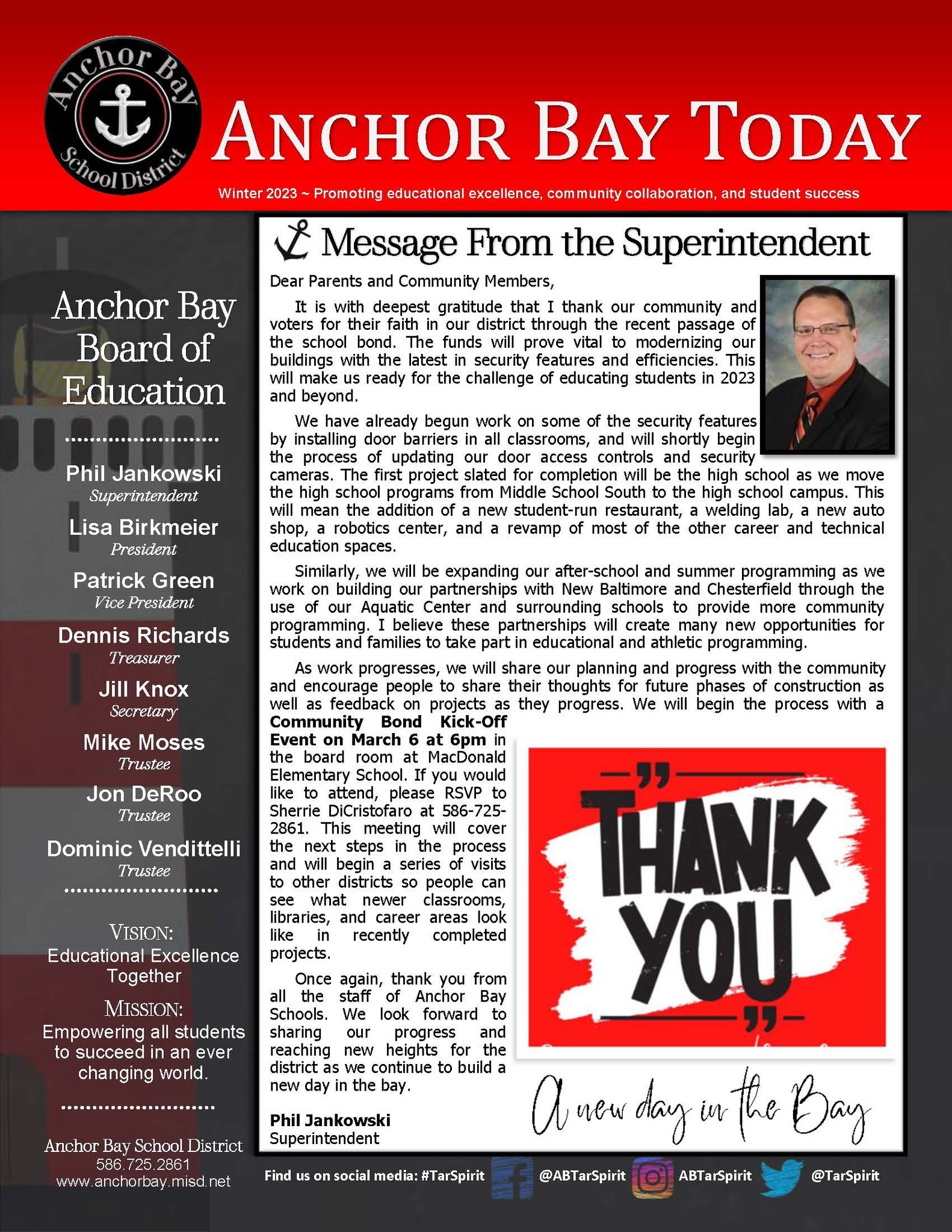 The Winter 2023 District Newsletter includes important dates, accolades, and other important information about what is going on here at Anchor Bay!
Anchor Bay Offers 3 Options for Kindergarten-Age Children
Kindergarten
A full-day program option
Children must be 5 years old by Sept. 1 of the school year in which they plan on attending Kindergarten.
Curriculum is based on the Michigan Standards for Kindergarten.
Half-Day Kindergarten
A half-day program option
Curriculum is based on the Michigan Standards for Kindergarten.
Students continue on to Kindergarten or 1st Grade the following year based on progress.
Young Fives
Young Fives is a full day program.
Designed for children turning 5 years old between June 1st and December 1st
Gives children an extra year before attending Kindergarten
The Young Fives curriculum is based on the Michigan Standards for Kindergarten modified to meet the foundational academic, social/emotional, and developmental needs for younger children.
Students will enter Kindergarten the following school year.
Location is determined by enrollment.
Young Fives Flyer

Click here for a printable flyer of the Kindergarten Options

Schools of Choice is open to all of these programs.
Contact Us
Heidi Stephenson
Principal
Diane Hamm
Office Manager
Jennifer Shaffer
Data Para Professional
School Times
Full Day: 9:00 AM - 3:51 PM
1/2 Day: 9:00 AM - 12:26 PM
Naldrett STAR Pledge
Today I will strive to do my best by being kind, responsible respectful and safe. I will look for ways to grow and improve. My life makes a difference at Naldrett Elementary.

PBIS Growth Mindset


What is PBIS


PBIS Golden Ticket Program

Medical Forms can be found on the Enrollment Page
Pay for It
To pay using Pay-for-it:
Log on to https://www.payforit.net/
Register for an account (You can get step by step instructions here: https://www.payforit.net/Images/SigningUp.pdf)
Add students to your account. You will need their Power Schools ID (you can get this from your school office.
Click on the Fees Tab to pay your students assigned or optional fees.
To Make a payment on Pay-for-It:
Log in and got to the "Fees" tab
Click on "Make Fee Payment"
Under Optional Fees - Click on the green "+".