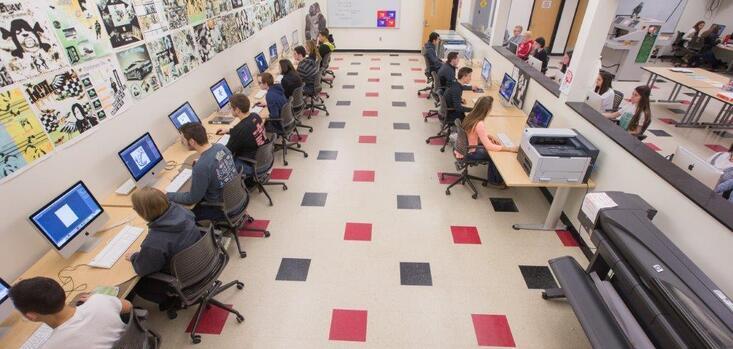 Overview
The class is run as a "hands on" experience with the students taking each project from concept to completion. It's a unique and fun way to learn new things. Some of their work was seen at this year's North American International Auto Show in Detroit as well as other local competitions.
It is open to all students and all grade levels and can be taken as an Intro for one semester or yearlong in the Graphics I. Students can keep taking the class as Advanced Graphics is available as both a single yearlong class or a 2-hour block for II, III and IV's also.
Graphic Arts
The term graphics relates to visual and the term communication refers to the exchange of information in any form. These classes are designed for ALL students who are interested in learning how to design and then create. Students will use words, pictures, photographs, and a combination of these items to design and produce various projects.
Examples Include:
Magazine and newspaper advertisements
Posters
CD / DVD / Game Covers
Packaging
Icons and Infographics
Although computers will be used for a majority of these projects, previous computer experience and artistic ability is NOT a must. Students will learn by doing. Projects are designed to build hands on skills. Advanced students may qualify to receive a job through our Internship Program their senior year.
---
Courses
Intro to Graphic Arts
Is a one semester introductory class where the students will learn by doing. The students will learn about graphics and printing and the steps it takes to produce a job. They gain some computer knowledge and advertising techniques used for designing and creating magazine ads. They'll use InDesign and be introduced to Photoshop. They produce a set of memo pads and business cards to keep as well as a few other computer projects. The students will have access to the entire graphic class and the equipment to complete the assignment. Safety and quality will be constantly stressed.
Graphic Arts I
This course is designed to use the student's creativity and increase skill levels through different projects and apply it to real life scenarios. They will continue work in InDesign and Photoshop. They will also be introduced to Illustrator. Students will design and produce ads, posters, CD covers, and many other projects. The students will also be introduced to full color printing. Quality and safety is stressed. Students will also be starting to create a portfolio of their work and be entering local craftsmanship contests.
Advanced Graphics (II's, III's & IV's)
This course is designed to prepare students for careers in the rapidly growing graphics arts/visual arts field. They will continue work in Photoshop, Illustrator, and InDesign. They will be introduced to animation in Photoshop. Students will be working on projects in electronic publishing including posters, logo design, product and packaging, advertising campaigns, one color printing, flat color printing and production printing. They will continue to build on skills for applying their work in real life scenarios. Third- and Fourth-year students are given the opportunity to explore other areas of the Adobe Creative Suite like Dreamweaver and
Animate. Students will be continuing to add to their portfolio as well as be entering local and national craftsmanship contests such as NAIAS Poster, Doodle for Google, and Van's Living Out Loud Shoe Design Contests.