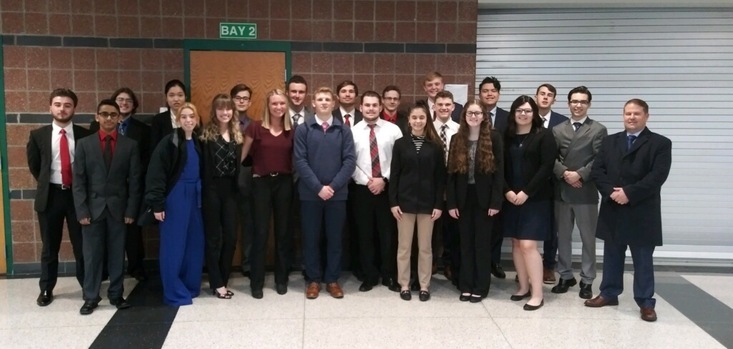 Students successfully completing the courses in this program may qualify for college credit through Articulation Agreements with various area colleges and universities. See the instructor and/or counselor for more information.
INTRODUCTION TO BUSINESS COMPUTER TECHNOLOGY (5024)
1 SEMESTER – 1/2 CREDIT
(GRADES 9-12)
A project-based course designed to allow students to explore and learn various computer applications for personal and professional use. Skills acquired will help prepare students for success throughout higher levels of education and all levels of the workplace. The main focus of this course is on business applications including word processing, various programs and software, presentation graphics, exploration of career opportunities and business-oriented utilization of the Internet. Students must comply with the Student Handbook/Student Code of Conduct, and Internet/Computer Usage rules and policies. This course satisfies ½ credit for the Applied Arts requirement.
---
E-SPORTS MANAGEMENT (5042)
1 SEMESTER – 1/2 CREDIT
(GRADES 9-12)
Want to turn your passion for gaming into a viable career? E-sports Management focuses on the business of E-sports. Students will get the opportunity to explore the culture of E-Sports, its audience, and fan base and explore different gaming genres. Students will be introduced to single player and multi-player events, create business plans to develop teams, create online communities and digital promotion. Participants will play and focus on Rocket League as well as various games.
---
MICROSOFT OFFICE (5094)
1 SEMESTER - 1/2 CREDIT
(GRADES 9-12)
This course will help students to better understand Microsoft Applications such as Word, PowerPoint, and Excel. Course content and projects are meant to simulate personal, as well as, workplace scenarios and draw on skills related to communications, operations, management, and teamwork in order to strengthen individual performance in the workplace and in society and make a successful transition to the workforce and postsecondary education. Students will have the opportunity to complete Microsoft Office Specialist (MOS) Certifications. Certifications are highly valued and respected in today's work environment.
---
BUSINESS MANAGEMENT (5111/5112)
FULL YEAR - 1 CREDIT
(GRADES 11-12)
Do you enjoy being a leader, organizing people, planning activities and motivating with success? Do you like to work with numbers or ideas? Do you enjoy carrying through with an idea and seeing the end product? Would you enjoy learning about financial literacy skills, investing, balancing checkbook, stock market as well as being introduced to the skills required in a global economy? This may be the course for you! This course fulfills the math-related credit.

Careers in this path are related to the business environment:
Accounting and Finance Human Resources
Business Law and Ethics International Business
Computer/Information Systems Management and Logistics
Economics Office Administration
Entrepreneurship Sports and Entertainment Marketing
---
BUSINESS PROFESSIONALS OF AMERICA CLUB! Join the Business Club.
PREREQUISITE: Introduction to Business Computer Technology, Microsoft Office suggested.