Mission Statement

All students at Sugarbush Elementary will have the academic foundation, social skills, and cultural awareness to become responsible, productive citizens.
Upcoming Events
Spotlights
Sugarbush Kindergarten Round Up
Wednesday, February 28th at 6:00 pm.

18/19 Registration Packet
2018 Calendar Change!
There has been an important change to this school year's calendar. We have been notified by local officials that a special election by Macomb Community College has been scheduled for May 8, 2018. As a result, the professional development day originally scheduled for May 17, 2018 will be rescheduled to that day. Therefore, there will be no school for K-12 students on May 8, 2018 for professional development/election day. May 17th will be a regular school day for all students and staff.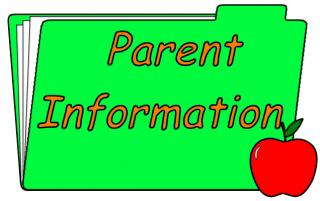 Non-Custodial Parents
We are more than happy to cooperate in sending materials home to noncustodial parents, upon request. PLEASE REMEMBER TO INFORM THE SCHOOL AT THE BEGINNING OF EACH SCHOOL YEAR OF YOUR CURRENT ADDRESS AND NEED TO RECEIVE THIS INFORMATION. A call to our building, (586) 598-7660, at the beginning of the new school with the appropriate information is generally all that is required to set the process in motion.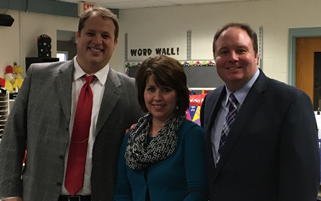 Teacher of the Year!
Congratulations! Mrs. Davis has been chosen as Anchor Bay School District's Elementary Teacher of the Year! Mrs. Davis was also chosen as Macomb County Elementary Teacher of the Year. We are so proud of her! Mr. Woodside, Superintendent; Mrs. Davis, Teacher & Mr. Wedge, Elementary Director
Contact Us
Sugarbush Elementary
48400 Sugarbush
New Baltimore, MI 48047
Phone: (586) 598-7660
Fax: (586) 598-7671
Administration
Yolanda White

Principal
Absence Hot Line:
(586) 598-7660
Please call your child in absent or tardy by 8:45am - you can leave a message any time
School Times
Standard Day: 8:36am - 3:32pm
Half Day: 8:36am - 12:06pm
Curriculum Resources

Math Live Binders
Click on the link
When asked to enter access key
use ABMATHELEM
Sugarbush & Anchor Bay Flyers
VIP Lunch with Mrs. White 1/12/18
PTO
The mission of the Sugarbush Elementary PTO is to provide our students with experiences that will enhance their learning and improve their quality of life. We believe in a close working relationship between home and school, where parents and teachers work together to provide our students with the best possible educational experience. All parents are welcome to join us for our PTO meetings and participate in school events. Watch the school newsletters for PTO meeting dates and times.
If you would like to receive text message reminders of upcoming events and information, text @sbepto to the number 81010. If you have trouble using 81010, try texting @sbepto to (586)884-8957 instead. If you prefer to receive messages via email, send an email to sbepto@mail.remind.com.
If you need to contact a PTO member, you can email them at sugarbushpto@yahoo.com

Box Tops for Education


Kroger Rewards


By-Laws